Hawaii's Friends of Morocco (HFOM)
HAWAII'S FRIENDS OF MOROCCO (HFOM) is an association of Americans and Moroccans interested in promoting mutually beneficial educational, cultural, charitable, social, literary, scientific, and trade relations between the Kingdom of Morocco and the State of Hawaii. HFOM, as a Hawaii non-profit corporation, and is planning to file for the federal tax-exempt 501(c)(3) designation shortly.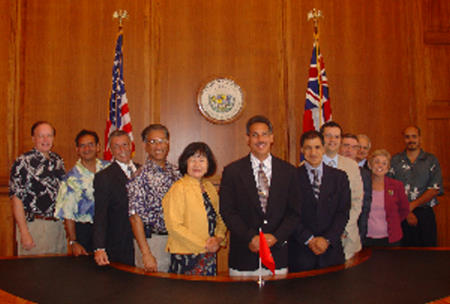 Jan Rumi, Bithi Rumi, Maeona Mendelson, Gil Mendelson, Sue Berg, Hakim Ouansafi, Reynold Feldman, Simone Feldman, Joan Chatfield, Tom Mitrano, Representative Helene Hale, Representative Dennis Arakaki, Senator Suzanne Chun-Oakland, Tom Klobe, Jenny Samaan, Veronika Linton, Pat Linton, Karen Cross, Nola Buffins, Lynne Waihee, Barbara Kim Stanton, Momi Cazimero, Randolph Sykes, Karen Thompson, Chuck Garman, Aimee Donnelly, Jessica Worchel, Hamilton Gates Ford, Iwi Joaquin, Joanne Tachibana, Richard Figliuzzi, Lowell Strombeck, Mary Huebner, Dora and Carl Chang, Mif Flaherty, Sheila James, Carol Bonham, Sylvia Rapoza, Didi Lau, Shari Hartmann, Anna Hoover, Teri Skillman-Kashyap, Chrystl Chun, James Rumford, and more!
Testimonials